Our Alphahydroxyacid Body Moisturizing Cream (AHA) - SUMAQ by Dr. Rubio will help us improve the flexibility and hydration of the skin. For all skin types.
Type of skin
All skins
Description

Aesthetic doctors are aware of the importance of applying the most appropriate body cosmetics to prevent, treat and achieve better results in the treatments that are performed.
AHAs act at the epidermis and dermis level, their action at the level of epidermal restructuring being more evident and rapid, achieving cell renewal and increasing the thickness of the epidermis.
The end result of this product is the improvement of the flexibility of the stratum corneum and its level of hydration; Therefore, it is considered a cream suitable for deeply hydrating all skin types.

The actions of Glycolic acid and AHAs in general, give them a great moisturizing and regenerating power of the fibers (collagen and elastin) and other structures of the skin (glycosaminoglycans). It is therefore an excellent asset to prevent, reverse or mitigate the effects of skin aging. They have also been found to possess skin tone-leveling properties.
The actions of Glycolic acid and AHAs in general, give our body milk a great moisturizing and regenerating power of the fibers and other structures of the skin.
They also have uniform properties of skin tone. The mechanisms by which AHAs increase skin hydration and reduce wrinkles are based on the following:
They remove dead cells from the stratum corneum.
They favor the hydration of the epidermis due to their moisturizing properties.
They stimulate the biosynthesis of glycosaminoglycans and other intercellular substances with the ability to retain water at the dermal level.
They promote the formation of new collagen in the papillary dermis and improve the elastic fibers of the reticular dermis.

How to use

Apply once or twice a day to clean, dry body skin. Its fluid, non-greasy texture is quickly absorbed, leaving the skin fresh and perfectly hydrated.
Recommendations

The products formulated based on AHA, thanks to the various actions described, have proven to be very effective in the following cases:
Dry and very dry skin, with a high degree of dehydration or peeling (skin with xerosis and ichthyosis)
Aged skin, with wrinkles, without elasticity.
Photo-aged skins (with actinic damage).
Skins with spots.

Composition
Fruit acids from passion fruit (passiflora edulis), grape (vitis vinifera) and pineapple (ananas sativus).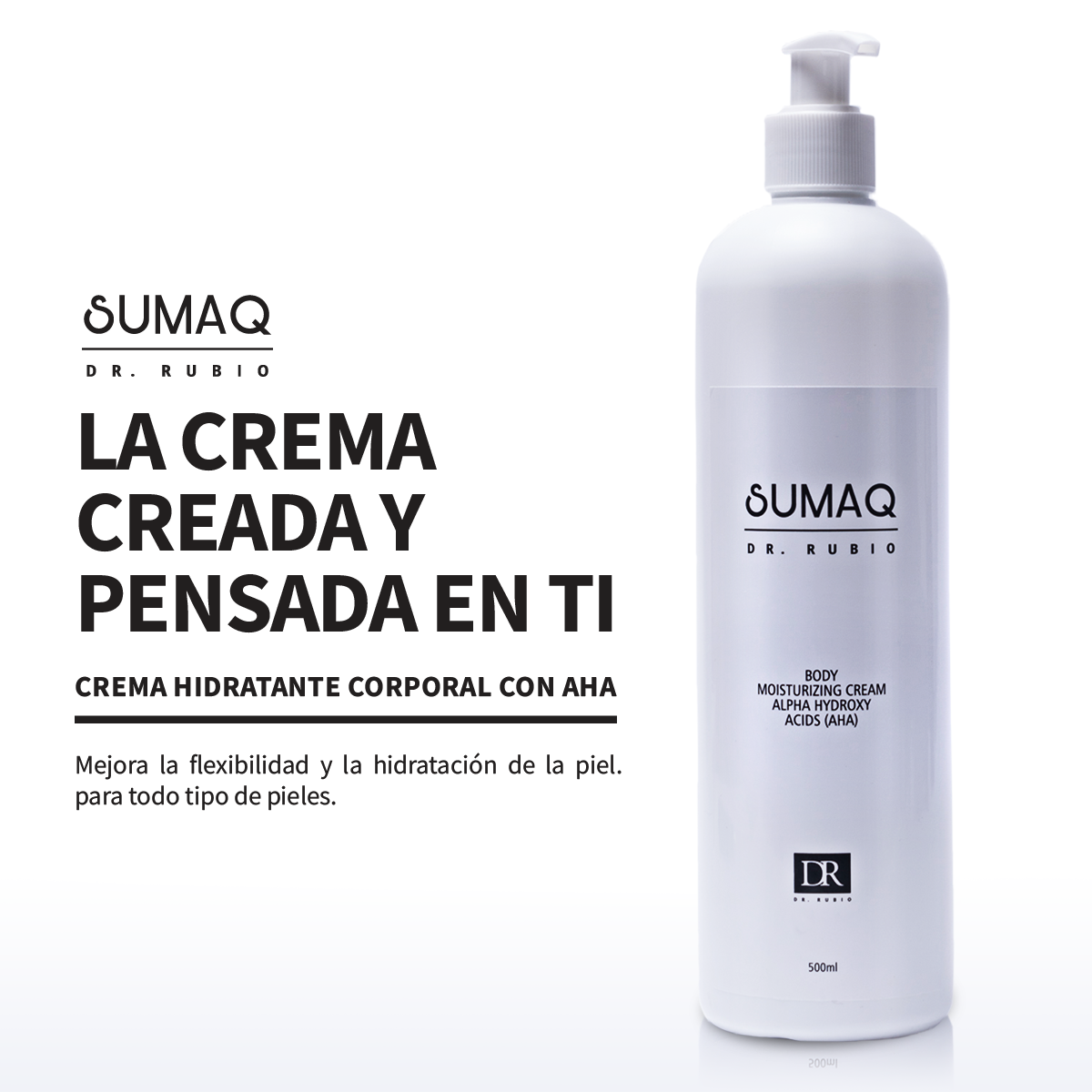 Product delivery
If you want to purchase this product and have it sent to your home, click here:
COMPRAR CREMA HIDRATANTE CORPORAL ALFAHIDROXIÁCIDOS SUMAQ EN AMAZON