Our Hydronutritive Cream with Liposomes (Premium) - SUMAQ by Dr. Rubio will help us improve the hydration and nutrition of our skin, it is indicated for dry skin.
Type of skin

Dry Skin
Description

Nourishing creams are composed mostly of lipids, which act as an energy reserve for the skin. For that reason, they are beneficial for those skins that for different reasons lack "oils" and are dry. Thus, within this group would be mature skins, since they lose part of their lipids over the years.
O / w emulsion formulated with moisturizing and nourishing substances conveyed in the form of liposomes that restore the hydrolipidic balance of the skin.
The transport of assets through the skin is basically controlled by the vehicle system, thereby allowing our assets to penetrate deeper into the stratum corneum.
Jojoba oil: flexibility and elasticity
Royal Jelly: Intensive, regenerating hydration
Hydrolyzed Collagen: elasticity and hydration
Epidermina: Hydrates and nourishes
How to use

With perfectly clean and dry skin, it is recommended to apply the product to the face, neck and décolleté.
For optimal results it is recommended to use the product morning and night.
Recommendations

Although the recommendation of the nutritious is preferable at night.
Nourishing Cream with Liposomes is a multipurpose cream that can be used as a make-up base during the day and as a nourishing cream at night.
Composition
Jojoba oil, royal jelly, hydrolyzed collagen, liposomes and epidermin.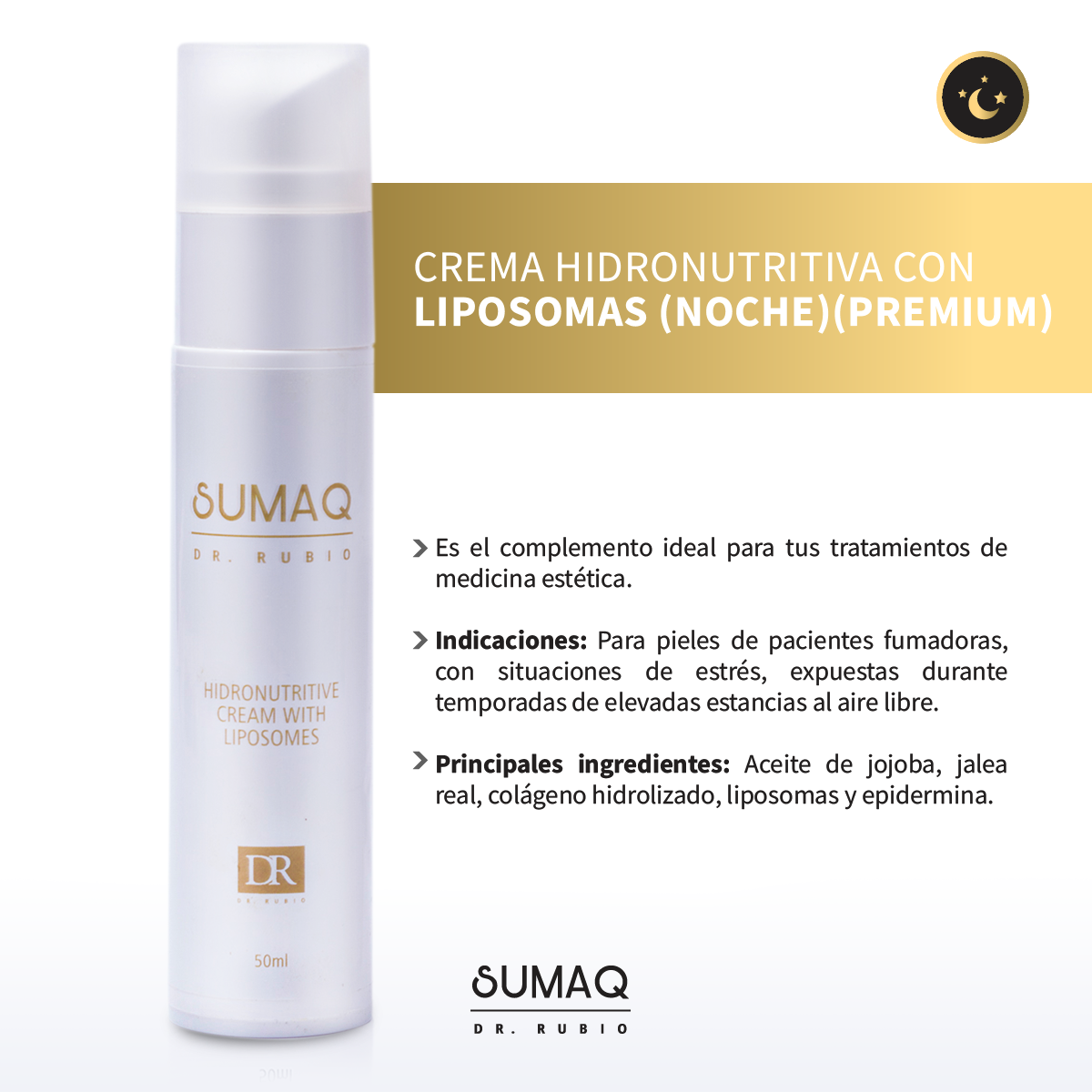 Product delivery
If you want to purchase this product and have it sent to your home, click here:
COMPRAR CREMA DE NOCHE HIDRONUTRITIVA CON LIPOSOMAS SUMAQ EN AMAZON